HabitMinder
Change your habits, change your life!
Your healthy habit reminder and tracker.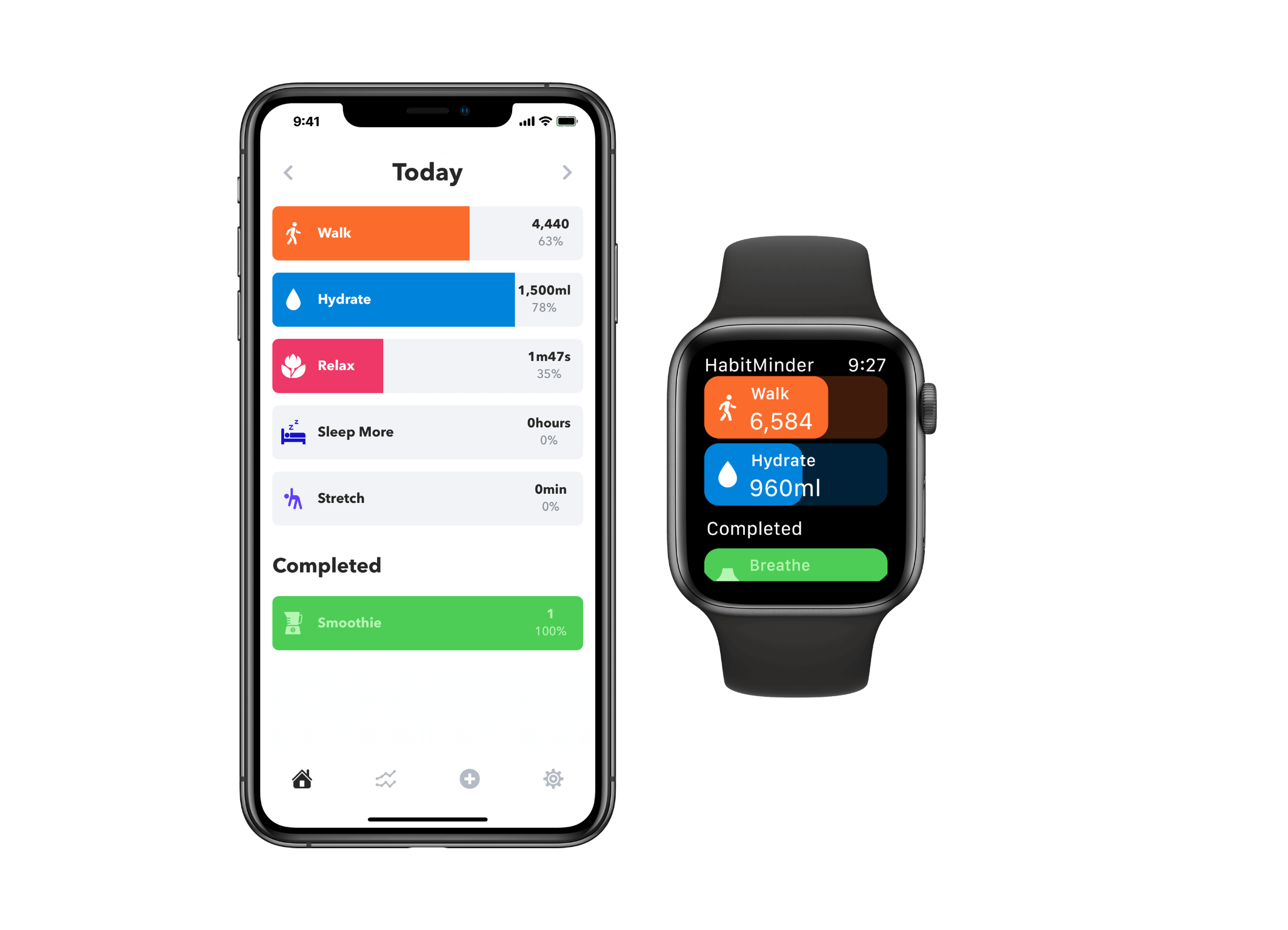 Key Features
Helping you reach your daily goals and form good habits
Home Screen
Track and see proggress of your habits on one screen. Simply swipe left to show quick-actions.
Customizations
Each habit is fully customizable. Set your goal, type of habit, color, icon, reminders, and more!
Apple Watch
HabitMinder supports Apple Watch, you can quickly log your habits via the Apple Watch app.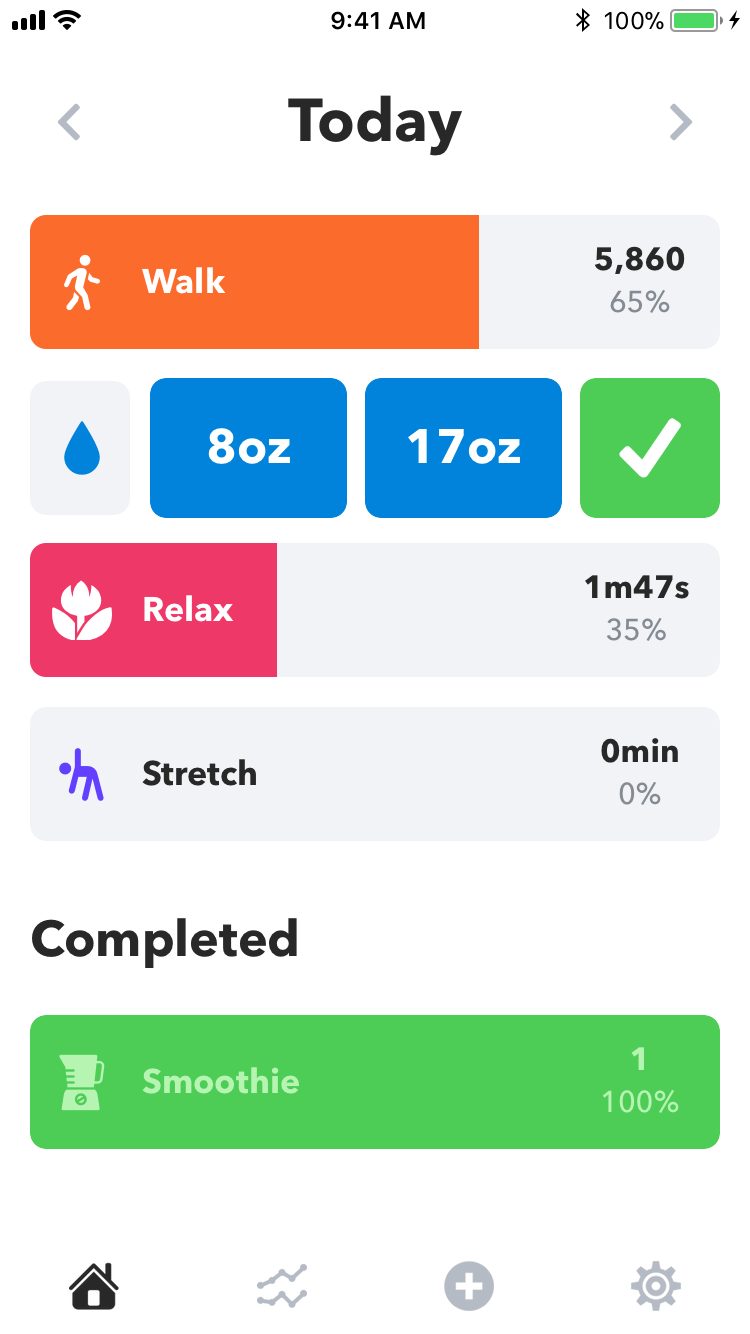 Sessions
Each habit detail screen has a custom built sessions screen that will help you complete your habits.
Statistics
Track how do you perform in each area, see your completion rates, streaks and detailed statistics.
Pre-defined Habits
More than 50 pre-defined habit ideas are available to choose from. You can also create your own!
Rated 4.6
out of 5
Based on 13200+ reviews around the world
"You can't beat the efficiency of the app, or the awesome team behind it :) I definitely recommend this for someone trying to build & maintain new habits: it's intuitive & integrates nicely with the Apple Watch & existing Health & other apps, too, so you don't have to duplicate efforts with data entry (huge win)."
by AnonymousAppler – Nov 8, 2019
"This app is wonderful in keeping track of my busy life. The customer service is awesome as well. When the exercise tracker was not working properly, they provided quick feedback and fix for the issue. I definitely will look into the other apps as this one has helped my life tremendously."
by misjae – Nov 8, 2019
"I have been using for 30 days now. Really great way to stay motivated and on track for creating good habits. I mostly use for health and track steps, hydration and exercise. There are sooooo many preset habits to choose and you are free to create your own. This app lets you skip days without losing your streak - so if you schedule a day off from weights, you're still good."
by Turtle_26 – Oct 6, 2019
"This is the best habit tracking app I came across after a long long search. The UI is just elegant and classy. It has all the features one might need without crowding in non essential features. The options to choose between counts and minutes and other such options make the app very customisable according to one's needs."
by Akhilpeterpan – Sep 24, 2019
"I tried many habit apps before purchasing this one. First of all. I did not want a subscription. Second was the functionality and the integration with the Apple Health kit followed by the user interface. Than for me the choice was easy. Not perfect but by far the best option was habitminder. After using it for a while i'am still satisfied."
by Medejo – Oct 8, 2019
"I initially used the free version for a month to get the overall feel and usefulness of the app. I realized how good the free version in tracking my tasks and progress of my habits. Overall, I enjoy keeping up with my habits when using this app! Habit tracking should be simple and straightforward. And HabitMinder makes it sinple yet super fun for me! Now, Im using the pro version and I love it!"
by Juno Lamar – Sep 20, 2019
"Love this app! But I am having a hard time getting my burn calories to sync from my Apple Watch to my HabitMinder app and it is up to date? Which bums me out because I LOVE this app and keeping track of my habits with it! Thank you! ❤️"
by Kells412 – Jul 11, 2019
"I love this app it helps me to relax take my medicine and weight my self. If u don't have it u should get it."
by Mrs. Si – Nov 7, 2019
"I've tried several habit supportive apps and this is my favorite. Simple to use, great to use with my watch, and most importantly it's helped me develop and sustain healthy habits."
by Time Spent – Jul 16, 2019
Screenshots
Glance through some of the screens from HabitMinder